People can always recognize her at a glance, perhaps because of her curly hair and dark skin, or perhaps because of her nice eyes, which always sparkled with friendliness and enthusiasm.
"Have you taken the nucleic acid testing?" "You are so beautiful today!" She greeted everyone loudly in fluent Chinese, and her cheerful voice shuttled through the crowd.

In 2007, Mariatu Kargbo came to China from Sierra Leone and was well-known to Chinese audiences for participating in a TV show. Later, she won the Miss World double championship and was known as the "Black Pearl".

Fifteen years later, Mariatu Kargbo has long regarded China as her second home. She has never been stingy with kindness. She has traveled to the earthquake-stricken areas many times for rescue and donated money to poor children. In 2019, she moved to Dongrun Fengjing Community in Beijing. Whenever the epidemic situation got severe, Mariatu Kargbo took the initiative to contact the community for volunteer work.

In Mariatu Kargbo's opinion, she is just an ordinary person. She believes in the power of sincerity: "As long as we work hard, we will be rewarded."

"I just want to continue"

When some people got impatient waiting in the queue and complained to the volunteers, Mariatu Kargbo would come over to comfort: "You are very beautiful!". Some people tried to cut the line, and argued after being stopped, Mariatu Kargbo would try to make them calm down: "Bro , you don't look good when you are angry, but you look great when you laugh." She could always resolve conflicts in her own unique way.

Since May 2, Mariatu Kargbo has been helping at the nucleic acid testing site at Dongfengnan Residential Compound in Dongrun Fengjing Community.

In fact, she lived in another residential compound nearby, but as the Dongfengnan Residential Compound is old, some elderly people need to be helped. It was very inconvenient for them to go up and downstairs for nucleic acid testing. Some volunteers were also in senior age. Mariatu Kargbo, 32 years old, therefore took the initiative to request to join the volunteer team of Dongfengnan Residential Compound.

Every day, together with more than a dozen community committee workers and volunteers, she worked for more than 1,600 residents. When the weather was hot, some community committee worker cooked mung bean soup for volunteers. Mariatu Kargbo walked to various testing sites with a large pot on her head, and delivered the soup to the volunteers.
Community staff told Mariatu Kargbo that volunteers could take a day or two off, but she never stopped showing up at the nucleic acid testing site on time at noon every day to help with various tasks.

Mariatu Kargbo pushed the wheelchair for the elderly who came to take nucleic acid testing

When there were elderly people who got difficulty moving, she would help them and send them upstairs; when she saw that the nucleic acid testing materials were running out, Mariatu Kargbo would rush to notify the community staff; when the work was about to end, she always joined the volunteers to take the initiative for cleaning up medical waste and supplies. Whenever someone greeted her to stop her work and do something else, she would rush to ask: "How long will it take? I'm going back to work, and I don't want to stop."

"Mariatu Kargbo's participation in volunteering is not pretending, she is very diligent every day and will stick to it until the end," said the community worker.

"It is happiness for me."

This is not the first time Mariatu Kargbo has volunteered in China. The earliest experience can be traced back to the 2008 Wenchuan earthquake.

Mariatu Kargbo was performing in China at that time, and she heard someone talking about the earthquake. As soon as the performance was over, she took her luggage and rushed to Sichuan to participate in the rescue, becoming one of the first batch of foreigners to arrive in the earthquake area.

During the three weeks in the earthquake zone, Mariatu Kargbo helped rescue teams search for elderly people buried under the rubble, and sang to comfort children who did not want to have their legs amputated. In the most challenging time, she walked with the team for 5 hours, carrying 10 kilograms of supplies over the mountains to find people, deliver medicine, and comfort the wounded. Later, since she got ill, she had to go back to Beijing for medical treatment, but she firmly rejected being hospitalized. "I said I would go back to Sichuan, because I had done a lot of work before. Many people were willing to take medicine and see a doctor because of my encouragement. The staff in the hospital knew me, and some people even invited me to comfort patients. When patients got anxious, they would persuade them, 'Let's get Mariatu Kargbo'."

Mariatu Kargbo volunteering in the area after earthquake.

Two weeks later, Mariatu Kargbo returned to the quake zone again, staying for a month to raise money for children there. During the Yushu earthquake in 2010, Mariatu Kargbo went to the earthquake area again to participate in volunteer services. She hoped to help more people: "This is my greatest joy."

Mariatu Kargbo with children in the area hit by the earthquake 

Some people disagreed with Mariatu Kargbo's approach. "I was scolded by people who said I was here to make money and bring it back to Africa." But Mariatu Kargbo knew that China meant a lot to her.

In 2004, when Mariatu Kargbo came to China for the first time, she suffered from an acute illness and she could not speak Chinese at all. A woman she did not know sent her to the hospital and helped her pay for the surgery, which made Mariatu Kargbo, who had lost her parents since childhood, felt the warmth of home.

She always remembered this kindness and decided to live in China. Over the past ten years, she has made many Chinese friends, continued to learn the language, and was active in the field of public welfare, becoming a model, singer and actress.

In 2020, Mariatu Kargbo volunteered to measure the temperature of community residents

During the 2020 epidemic, Mariatu Kargbo assisted security guards to scan health codes, measure temperature and register at the gate of the community. Mariatu Kargbo always greeted residents in a friendly way, and sometimes she cooked food for the staff, hoping to relieve their fatigue. And she was named as an "Honorary Resident" of Dongrun Fengjing Community in the year.

On May 2, 2022, when Mariatu Kargbo learned that the community needed manpower again, she took the initiative to ask to be a volunteer, wanting to contribute to the home where she has lived for nearly 3 years. As of May 21st, Mariatu Kargbo has participated in more than ten rounds of nucleic acid testing volunteer services.

"Give me an hour and people will like me for sure"

Mariatu Kargbo always feels that volunteering is "happy work".
She never posted these experiences on social platforms, nor did she take the initiative to tell her family and friends.

"After the recent COVID outbreak, many people asked me how I was. I just sent them the photos and said I was working. They asked me if I was afraid and told me, 'You need to protect yourself!' My family and some friends didn't support me on being a volunteer." Mariatu Kargbo always replied :"Don't worry, we were all fine, the epidemic would pass sooner or later. The elderly here need my help, why should I stay at home? People would leave the world someday, but kindness will stay."

Kindness doesn't always get paid off, and many residents rejected her when they didn't know her. Mariatu Kargbo understood this indifference. She had been to many places and was rejected by many people because of her status as a foreigner: "The culture background and ideas of each other are different, and we need time to adjust."

An old man was not in good health. Once he wore the mask for long time, he would gasp for breath. Whenever Mariatu Kargbo saw him, she always ran to take care of him. Half a month later, the old man seemed to have recovered a lot. "She told me a lot of things from her heart." Mariatu Kargbo believed that her sincerity would always move others: "Give me an hour and people will definitely like me, because I am sincere. Although I am a foreigner, I have a 'Chinese heart'. As long as people gradually knew me, they would change their attitude towards me. Sooner or later, our estrangement would be resolved by love."

A staff member and Mariatu Kargbo treated wounded residents

"Family"

On May 13, Mariatu Kargbo cancelled her own birthday party and still volunteered on time. Gao Qiang, Secretary of the Community Committee, presented Mariatu Kargbo with a bouquet of flowers and birthday wishes.

Despite only working together for short time, some communities workers and volunteers have already treated Mariatu Kargbo like a family member.

Mariatu Kargbo also considered them as family members in the same way. She knew that social work was not easy. Some people worked late into the night, some did not rest even when they were sick, and some people kept working even in isolation.

Mariatu Kargbo (second from left in the front row) took a group photo with all the staff of Dongrun Fengjing Community

These actions deeply moved Mariatu Kargbo, and she also expressed her love in her own way.

Mariatu Kargbo will have to go back to Sierra Leone at the end of May for personal reason, she will stay in Africa for a year, or maybe a little longer. She cried sadly: "I haven't left China for 5 years, and I have never been away for so long. The longest time was only 20 days before."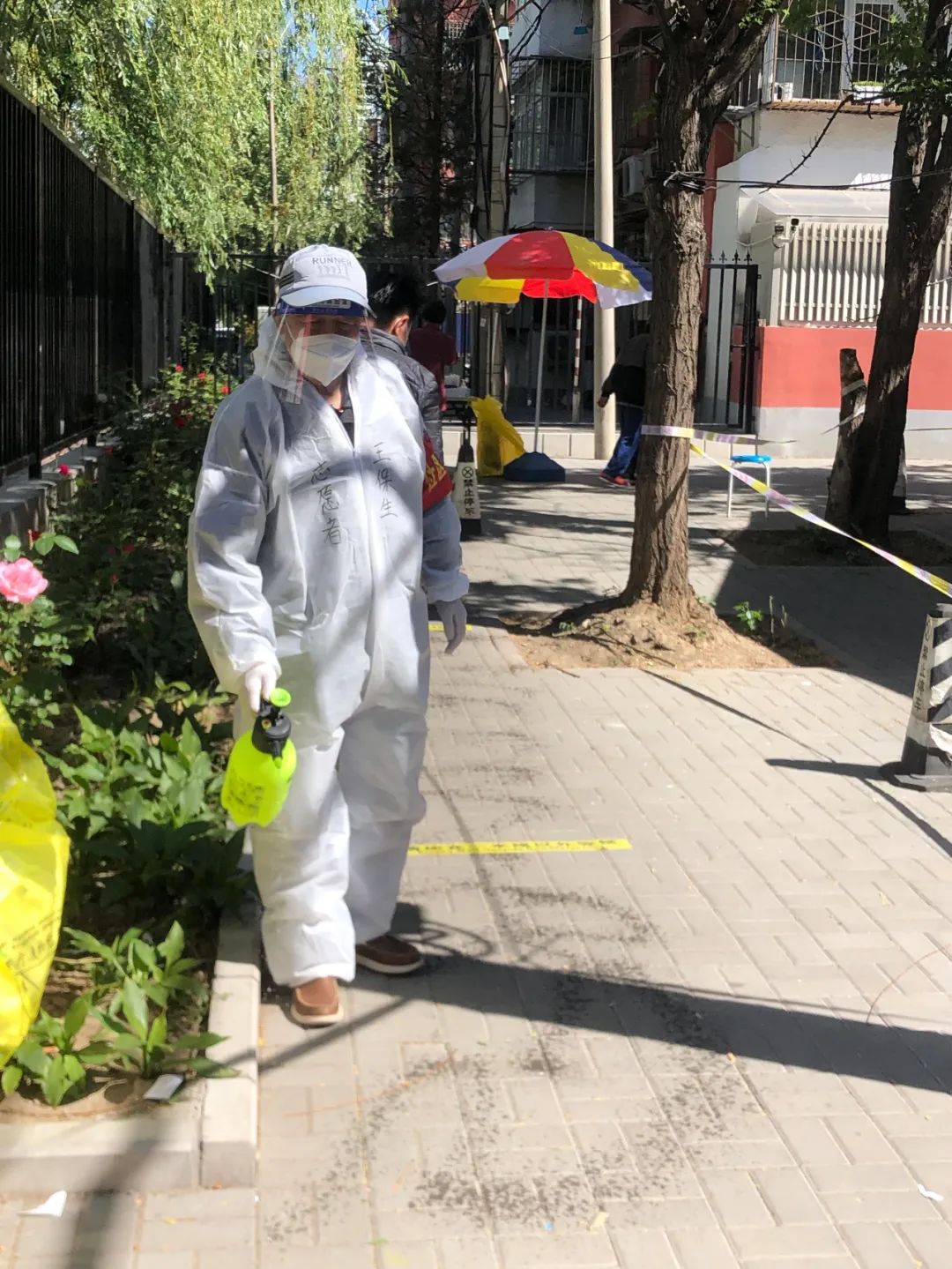 "I am an ordinary person." Mariatu Kargbo explained: "When I first came to China, I had no money and no family. But now I have brothers and sisters in the community, uncles and aunts… So many people have helped me, I should help them too. China is my home and I believe the future will be better."

As one of the "Best Foreign Volunteers", Mariatu Kargbo was invited to the conference in 2020 at the Great Hall of the People.